ok so lets go through the shopping list...
Cable
The cheapest way by far to buy cable is buy the reel. If you work out roughly how much you need then you can buy the closest reel size that matches your needs. In my case I'll need approx 80m. I sourced a 100m reel of red and black cable from ebay for under £55. The cable is rated for 25A and has a CSD of 2.5mm or basically AWG13.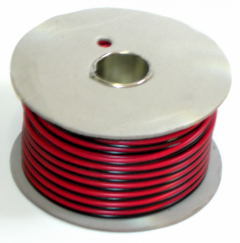 Connectors
I need to make sure the connectors are a standard connector and are vastly different from an ordinary 240v outlet. Because it will only have 12v going through it it would not be dangerous to put your fingers in the connector but some kind of cover was also desirable
There seems to be two kinds of 12v connector available, one for the European market and one for the UK market, I'm not entirely sure what the differences are but as all the devices I buy would have the UK version I stuck to the UK version. There is also a variant in the type of connector.
There is a 'Cigarette Lighter' connector which is fire retardant and a more basic DC Power Only outlet. As I'm never going to plug a cancer stick lighter in I've stuck to the 'Power Only' outlet. The 'Power Only' connectors are a slightly smaller bore so the cigarette lighters cannot be plugged into them accidentally, this also has the side benefit of giving a better connection to power devices.
After doing some research I found some connectors designed for use on Motorcycles. I found hundreds of power splitters on eBay but they were bulky and looked difficult to mount. Most of them had USB connections on them to charge USB powered devices but because the would be permanently connected they would be constantly draining power from the system.
These are the connectors I chose (£5 each from here):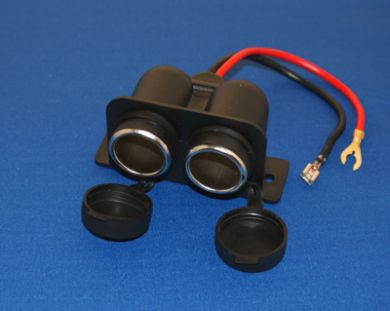 You can see in the picture the connector has mounting holes, this will allow for easy mounting either on a wall or on a face plate. The connector opening also have caps. These would usually be used to stop water ingress but in this case they will stop the young-en from feeding it with stones...
Fuses and Distribution
I've had some bad experiences with ordinary car 'Blade' fuses over the years. If you pull any more than 15A or so through the fuse holders they have a tendency to warm up and melt without the fuse blowing. The only way to stop this is to get a better connection between the fuse and the holder.
Fortunately there is a freely available solution in the Car Audio market. If you fit large amplifiers to a car then you would need to use a high current distribution block. They are usually gold plated brass with large connectors for thick cables which are tightened down with grub screws.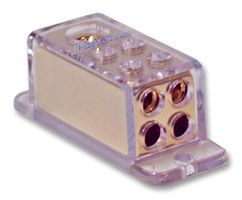 The Fused Distribution Blocks take large fuses called AGU Fuses, they are usually designed to take up to and over 80A, the surface area between the fuse and the holder is very large compared to a blade fuse and crimp.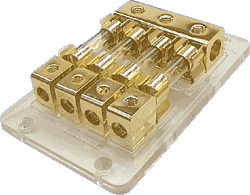 The distribution block and fused distribution block cost between £5 and £10 each on eBay or significantly more from your local car audio dealer.
Fuses are available from 20A to 80A usually in 10A increments and you can pick up a pack of 5 fuses from £3 - £5.
This is the majority of the parts needed, certainly the major ones.
I've picked up some wall plates from B&Q to mount the sockets onto, and a few sundries will be needed along the way I'm sure.